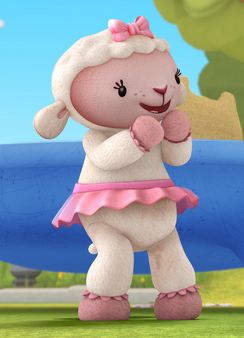 Lambie is one of the main characters in
Doc McStuffins
. She's a sweet, perky, lovable and super cuddly stuffed sheep who adores ballet and hugs!
Lambie loves to play with the others and is usually seen with Doc or with Hallie.
Personality
Edit
Lambie is as soft as the wool covering her! She's gentle and very sweet, but usually not timid or shy, though depending on who she's meeting for the first time, she may get hesitant or insecure until she's convinced to just be herself. She simply adores hugs, even if you do know what hugged, you can guarantee that Lambie will ignore the protest and hug away! Usually her hugs tend to cheer up others, and when someone refuses she sometimes gets sad or may seem shocked, but it doesn't last long.
Besides being a loveable cuddle-bug, Lambie also is very passionate about activites that may involve dancing. She also loves ballet and likes it when others wish to dance with her too.
But despite how soft she may be, underneath her cuddly pink exterior, Lambie is no pushover! She's also shown to be really smart because she remembers important things and long definitions, as shown when Stuffy forgot something but claimed Doc should tell them to remind Lambie, who then told him the definition. Also, Lambie can be a little forceful if she knows she has to be, though this is pretty rare of her.
Appearance
Edit
Lambie, like most sheep or lambs has white fluffy wool covering her body. Her face and paws are a fair-pink color while her wrist and ankles have light pink ruffles around them. She has a small, but noticeable lambs tail and big ears on the lower part of her head. Lambie has small black eyes with small eyelashes, a dark pink thin nose connected to her mouth, and light colored freckles.
Lambie's attire is very simple, consisting of a pink bow on the top of her head, and a short pink tutu.
Other outfits
Edit
In one episode Lambie and Stuffy were pretending to be superheroes. She wore her normal tutu skirt, along with a blue eyemask and a yellow tiara with a big red star in the center.
A simply gold tiara with her pink bow.
Lambie can understand what Squeakers & Marvin are saying.